2016 HomeSmartNY Statewide Conference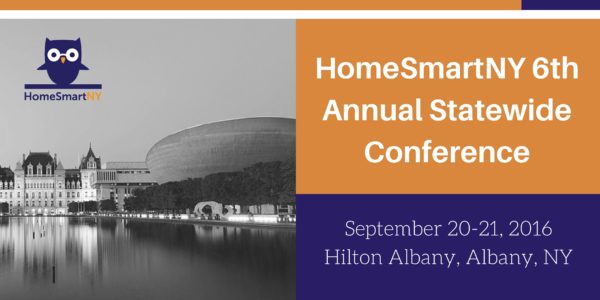 2016 HomeSmartNY Annual Conference
Moving Forward Together
September 20-21, 2016
Hilton Albany
Albany, NY 12207
Sponsors
Gold Level 
SONYMA
NeighborWorks America
Silver Level
Federal Home Loan Bank of New York
Bronze Level
Wells Fargo
New York State Association of REALTORS®
M&T Bank
Join HomeSmartNY online today!  Get discounted tickets!  Access all the activities of Membership Day!
Tuesday, September 20, 2016
3:00 pm – 5:00 pm   Be HomeSmartNY's Future – Network Planning Session
Hear about the ways that HomeSmartNY is working for our members.  See examples of our social media campaign.  Learn about the benefits of networking and training through your local chapter.  Find out how you can be more engaged in the future of housing counseling and HomeSmartNY.  Learn about our committees and how you can be a part of them.  Provide us with feedback on HomeSmartNY's programs, services and focus.  Meet your board members.  This is your chance to be a part of the future of HomeSmartNY. This meeting is for members-only.
5:00 – 8:00 pm   Networking Reception
Enjoy refreshments and network with your peers. All are invited to attend.
Wednesday, September 21, 2016
8:30 am         Registration Opens
8:30 – 9:45 am          Continental Breakfast and Networking
9:45 – 10:15 am        Welcome and Introductions
10:15 – 10:35 am        Keynote Speaker – Sarah Gerecke, HUD
10:35 – 11:35 am           Working Together on the State and National Level
Hear about issues that are affecting housing counseling at the state and national level from our network members, state and national partners.  Explore programs, policies and issues that impact your work and your organization. Find out how the HomeSmartNY coalition works together to move forward housing counseling advocacy.
11:35 am – 12:35pm           Moving Forward Together
HomeSmartNY Executive Director Jennifer Murphy will lead a group discussion. Discuss how your housing counseling agency is advocating and plan how we can move forward together as a coalition. on how housing counseling agencies are doing advocacy across the state and how we can move forward together as a coalition.
12:35 – 1:45 pm            Luncheon
1:45 – 3:00 pm            Concurrent Roundtable Discussions
Roundtable A: Meeting Your Lending Partners: Mortgage Products for Your Clients
Lenders including SONYMA, Wells Fargo, and M&T Bank will talk about their current pre-purchase CRA mortgage products and how housing counselors can deliver prepared, mortgage-ready buyers. The discussion will include a Q&A and feedback session.
Roundtable B: Working Together: Increasing Opportunity Through Partnerships
Learn about innovative ways to develop partnerships from HomeSmartNY members and our corporate and non-profit partners. Explore ways that partnerships can be used to develop stronger pre-purchase programs.  Determine what a sustainable post-purchase program can look like after NFMC, HAMP and HOPP.
Share how your organization is working with lenders, real estate professionals, and other industry partners to create sustainable pre-purchase, post-purchase and rental counseling programs.  Meet industry leaders and decide how we can work together in partnership as a coalition.
Roundtable C: Future Innovations: Using Technology in Housing Counseling
HUD's preliminary study found that people have a greater take-up rate when they are offered counseling by remote access.  How can your agency reach these potential clients?  How can HomeSmartNY members work together using shared technology and marketing.  Learn how agencies are currently using online homebuyer education, phone counseling, Skype counseling, and other technologies to provide remote services and reach new clients. Decide how we can use these technologies to strengthen our coalition, expand our funding and reach more potential clients
3:00 – 3:30 pm            Closing Plenary
Shuttles will be ready at 3:30 to transport attendees to the Albany-Rensselaer train station.
Hotel Reservations
Hotel room reservations can be made with the Hilton Albany at (866) 691-1183 with the conference block code 1HOME. Conference rate available until August 25, 2016.