Highlights from the 2016 HomeSmartNY Annual Statewide Conference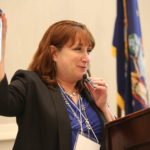 The 2016 HomeSmartNY Annual Statewide Conference was held in Albany, NY on September 20 and 21, 2016. Over 130 housing counselors and homeownership education supporters from across the state met to discuss the state of housing counseling, issues affecting housing counseling and advocacy work on the state and national level, and ways to move forward together as a unified HomeSmartNY.
Sarah Gerecke, Deputy Assistant Secretary, Office of Housing Counseling, US Department of Housing and Urban Development delivered the keynote on housing counseling's impact and trends, recent research, and sustainability
Attendees participated in several roundtable discussions on a variety of topics, including advocacy on the state and national level, mortgage products targeted to meet the needs of low and moderate income borrowers and neighborhoods, increasing technology through partnerships, and using technology in housing counseling.
Conference presentations, handouts, photos, and branding materials for members can be viewed at the link below.